Tai Sang International Holdings Limited
Frequently asked questions
Is Tai Sang Embro™ available in all parts of the world ?
---
Yes. almost all around the world, Tai Sang Embro™ is available. From USA to Africa, we have been able to expand & are trying to reach to all the customers who are looking for more innovated products for their embroidery needs.
---
Does Tai Sang Embro™ make all kind of embroidery machines ?
---
Yes. At Tai Sang Embro™ we make all kind of embroidery machines. our Pearl Mode - Tubular Style Embroidery machines - for single head we have many different sizes, all those that may be perfect for your product & embroidery needs. We also make multi head tubular style embroidery machines from 2 heads to 12 heads. We also have 4 different models - Vista, Vista Plus, Excellence & Platinum models - all for flat bed embroidery but differing according to the speed & with speed the mechanical & electronic specifications changes, You can pick up your model, which suits your requirements.
---
Does Pearl Model [tubular style] embroidery machines come with frames also ?
---
Yes. we Pearl Model ofcourse comes with cap embroidery frames. Also we give 5 sizes of nylon frames per head with the machines for the T-Shirt & tubular garments embroidery purpose.
---
What files can be used for doing embroidery ?
---
.dst files can be used for doing embroidery on all Tai Sang Embro™ embroidery machines.
---
What is the smallest size & largest size for Pearl Model [Tubular style] embroidery machines
---
Pearl Model em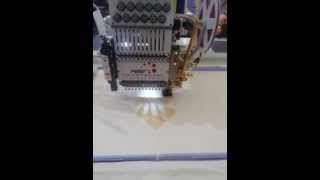 broidery machines comes in many different sizes. The smallest is 300 x 300 The Largest is 1500 x 500 Pearl Model 1201 1500 x 500 12 Needle Single Head 1500 mm x 500 mm
---
What kind of fabrics we can use on Tai Sang Embro™
---
All kind of fabrics, pure or synthetic fabrics, original leather or synthetic leather, all can be used on our embroidery machines. But according to the fabric you need to change the needles & also need to adjust the speed of the machines.
---
---